Jo is available for speaking and presentations, please contact us to enquire about booking Jo to speak.
Below are some examples of where Jo has appeared in newspaper articles, publications, public speaking and radio appearances.
Articles
Artefact Magazine
Jo featured in Artefact's November 2019 issue, discussing the reasons why some people develop hoarding tendencies.
The Guardian Articles
As a result of hoarding being recognised as a mental health condition by the World Health Organisation, much has been done in the media to raise awareness of hoarding and reduce the stigma surrounding this complex disorder. Jo was commissioned by The Guardian to write a piece regarding this new classification.
Feature in the Guardian – how clearing my father's house inspired me to help hoarders.
A further article Jo features in emphasising that hoarding is a mental health disorder and not a lifestyle choice.
iNews Article
Featured in iNews – following the WHO hoarding classification.
Take a Break Article
Featured in Take A Break – helping raise hoarding awareness.
The Sunday Times Article
Out and About Article
---
Blog Contributions
In November 2018, Jo was asked to contribute to Helpd's blog on how to help an elderly relative on the sensitive issue of hoarding behaviours.
This article provides some really useful information if you are unsure of how to help in this situation.
Speaking
Jane Perrone's 'On the Ledge' Podcast
Jo was delighted to chat to Jane Perrone about hoarding of house plants and also gave her some practical household tips in her monthly podcast 'On the Ledge'.
APDO Conference March 2018 Workshop:  Understanding how to do more good than harm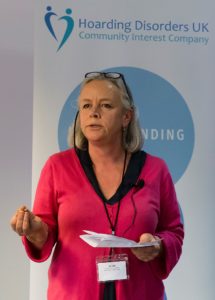 Jo delivered a workshop on hoarding and answered many questions from delegates attending the conference who wanted to know more about hoarding as a mental health disorder.
Women's Institute
BBC Radio Berkshire